As often as we can – whatever it is we?re covering – we like to go hands-on with the product in question. And, in all of our Afternoon Beer Breaks, we?ve done precisely that. Today, however, we?re going to cover things from a distance, so to speak, and talk to you about a few newer offerings coming out from Rogue.
First up, you?ve got the Rogue Dreamland Lager. Why this one is interesting is it?s actually for a partnership between Rogue and Dreamland Skateparks. It started off with renewing a skatepark in Newport, and has grown into a partnership to help benefit community skateparks, giving folks great places to go and safely skate. The beer itself looks to be a classic lager, coming in at a 4.8% ABV, available year-round in a 12 oz 6-pack ($9.99), tallboys, or on draft.
Next up, you?ve got the Rogue Rolling Thunder Imperial Stout. Now, if that sounds familiar, it?s because we just last week talked about the Rogue Rolling Thunder Whisky – this here is the companion beer. Take your imperial stout, age it for nine months in a barrel that formerly held Rogue Dead Guy Whisky, and then you?ve got this here. Sounds like a rich, decadent brew, and it?s got a price tag to match. While most of the nation will pay $14.99 for the 500ml bottle, WA residents pay another buck, and OR pay another two bucks on top of that.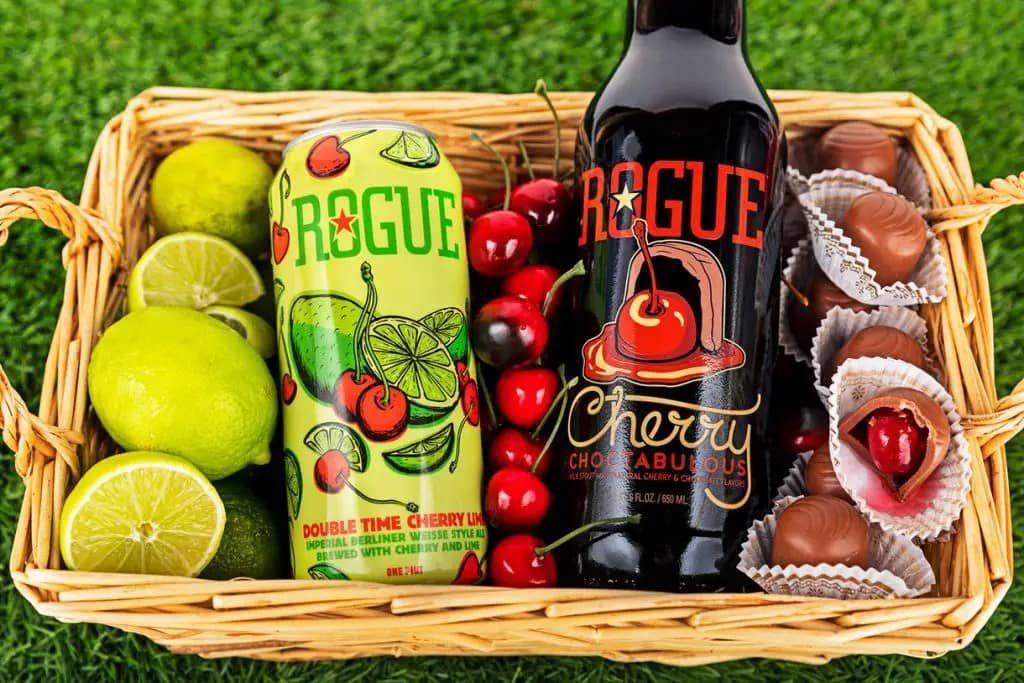 Last, but certainly not least, I want to talk about a few cherry-based offerings that Rogue has on tap (from November through February) – the Double Time Cherry Lime and Cherry Choctabulous. Both of these feature cherries, which are delicious in their own right. But here, we've got two very different expressions – the Double Time is a weiss that seems suited to warmer weather, while the Cherry Choctabulous seems like a good companion to have by your side while you await those warmer temps. Whatever your reason, if you like fruit in your beer (I'll admit, these have me curious), have a look out for these while they're still in the store.
So, there you have it – a quick hit of four different offerings from Rogue, all with different flavor profiles and one that's even helping to do some community good. Check 'em out, and let us know what your favorite is! rogue.com
Dreamland American Lager
Style: Lager
ABV: 4.8%
IBU: 14
Packaging: 12oz can 6-pack, 19.2oz can, draft
Availability: Year-round
Rolling Thunder Imperial Stout
Style: Imperial Stout
ABV: 13.6%
IBU: 47
Packaging: 500ml (16.9 ounce) bottles, draft
Availability: February, limited supply
Cherry Choctabulous
Style: Milk Stout
ABV: 8.4%
IBU: 30
Packaging: 22 oz bottle, draft
Availability: November
Double Time Cherry Lime
Style: Imperial Berliner Weisse
ABV: 9.1%
IBU: 14
Packaging: 4-pack 16-ounce cans, draft
Availability: November