Over at WWR, we've looked at a number of Casio ProTrek watches. In my eyes, if you're on the hunt for an outdoors-focused watch with a lot of technical capabilities, the ProTrek lineup is the place to be. If you're also fond of tracking your exertions, you've had to go for a fitness watch that also had GPS built in. That is, until the Casio ProTrek WSD-F21HR was announced.
Casio labels the ProTrek WSD-F21HR as a smart watch, and it definitely has some smarts built in (it runs the Google WearOS). But they're of a different sort. You're not going to be managing your calendar and notifications. Instead, you'll be checking out the weather conditions and mapping out your hike. That's done via the GPS and offline mapping capability (no need to rely on cell service). It also packs in the standard (for the ProTrek line) triple sensor technology, so you're getting a whole host of capabilities (altimeter, barometer, compass, and thermometer) that are useful for the out of doors.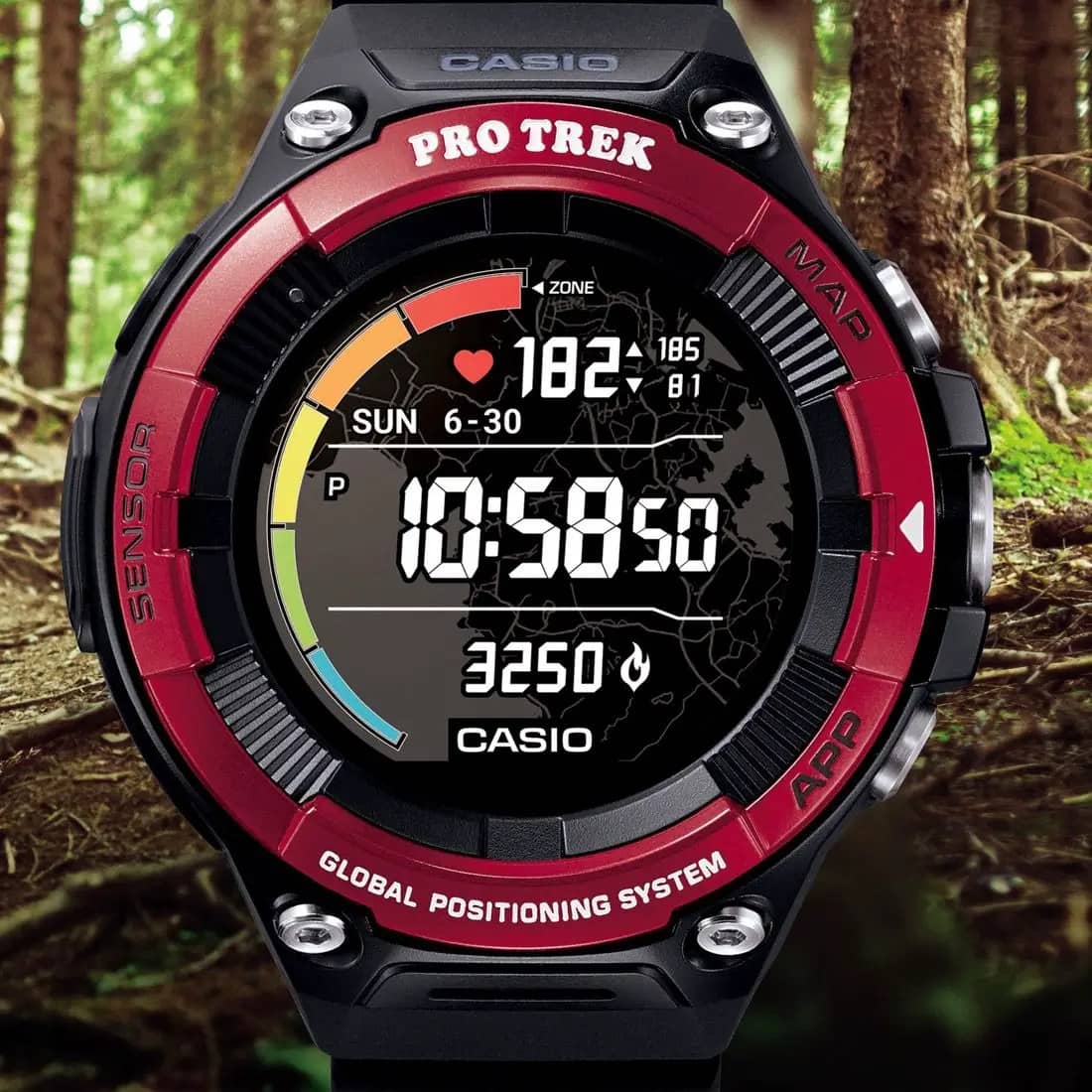 The Casio ProTrek WSD-F21HR also packs in a bunch more for your training regimen, whether it be hiking, running, biking, or climbing. Along with the aforementioned maps and GPS, you've got the Casio Activity app, whatever you might want to load in from the Google Wear app store, and the key component, a heart rate sensor. It's one thing to track how far you hiked, it's a whole other thing to actually know how hard your heart was working, especially if you're training for something specific.
Even if you're just casually tracking your fitness levels with occasional workouts and trail rides, the Casio ProTrek WSD-F21HR would be useful. I do wish that the WR rating was higher than 50m, but for getting caught out in the rain (as I was on a camping trip a few days ago) this should hold up just fine. The Casio ProTrek WSD-F21HR should be getting released in September at a price of $499 in black and red, and we'll work to get in a loaner for a full hands-on review once released. wsd.casio.com and protrek.casio.com