We've had smart watches and fitness bands with heart rate sensors for a few years now. We've seen Casio smart watches with Bluetooth, whether they had analog dials, digital, or were all-out Android Wear. Now, for the first time, heart rate is built in the G-Shock MOVE GBD-H1000.
The G-SHOCK MOVE GBD-H1000 is solar powered, first of all. When charged about eight hours every day under indoor fluorescent lighting (500 lux), and charged at window side on a sunny day for two hours in a week (10,000 lux), it can be used for daily wear.
Solar-assisted charging
Time mode (includes step count measurement and notification functions) can be powered with solar charging alone.
GPS and the heart rate measurement require more juice, and charge over USB with its dedicated charge cable. After about 2.5 hours of charging, training features can be used continuously for up to 14 hours. Because you charge with USB and Solar, CASIO calls it solar-assisted charging.
OK, that's how it charges. What can it do?
HEART RATE MONITOR
Optical sensors on case back of watch LED light, detect the blood flow under the skin, and measure heart rate. This is pretty common – we've had these for years on FitBits, Apple Watch, Intel Basis, and others. But it's the first time we've had one on a G-SHOCK.
STEP TRACKER
Again, this is pretty common. Casio is using a 3-axis accelerometer to detect body movements, measure step count and distance traveled. They're also using it to interpolate distance measurements in conditions where GPS measurement is unavailable.
ALTIMETER / BAROMETER, TEMP, COMPASS
There's a built-in miniature sensor that takes measurements of compass bearing, altitude, barometric pressure, and temperature. Compass bearing and altitude information improve the accuracy of GPS distance measurements.
Oh, and GPS.
The G-Shock uses GPS to measure distance traveled, speed, pace, and more. It sets the time from the GPS satellites. If you pair it with a smartphone, it can display your routes traveled.
The data is stored in the watch, and you can customize the display. Casio calls this Memory in Pixel. The smartphone also sends it vibrations on email and other notifications.
Those notifications are phone calls, email, and message receipt notifications. You can check them while exercising, unless you're in training mode.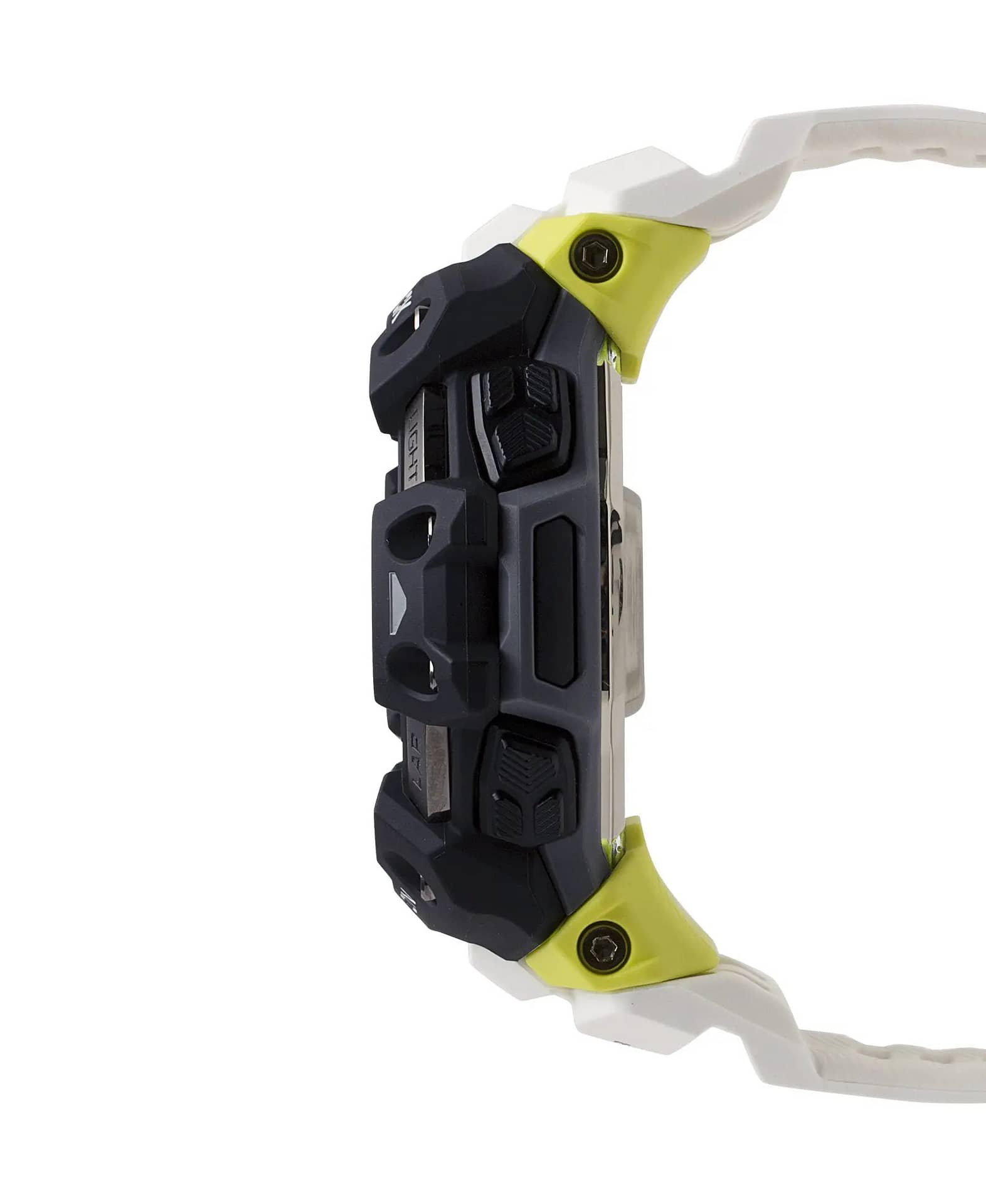 Because it's a G-Shock, it's shock resistant and water-resistant to 200 meters. The display is protected by a mineral glass crystal.
Design-wise, the urethane band connects to the case of the watch, and the metal bezel and buttons are protected by resin protectors over the top.
The GBD-H1000 is expected to be US $399. Check it out at G-Shock.com.